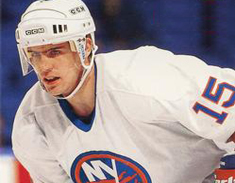 Drafted in the first round, 6th overall by the New York Islanders in the 1985 NHL Entry Draft, Brad Dalgarno spent his entire NHL career with the Islanders. Brad spoke with me about his career, including the how he almost retired after sustaining injuries in a fight with Joey Kocur in 1989 that caused him to miss the entire 1989-90 season. Some really great insights from Dalgarno, in addition to a funny story or two about his former teammate Darius Kasparaitis.
I had a chance to speak with Brad again back on 10/29/2011, the night the Isles honored their 1992-93 team at the Nassau Coliseum.
After this interview I mentioned to Brad how I'd been told I looked a lot like him back in his playing days… pretty sure he thought I was nuts!