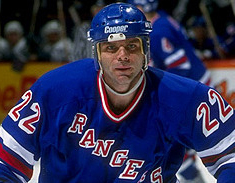 When I think of Mike Gartner, I think of what a raw deal he seemed to get in 1994 when he was traded to the Toronto Maple Leafs for Glenn Anderson. It's hard to argue with the trade when you consider how the season turned out for the Rangers, but as fan of his- I felt for Mike.
A Rangers killer in his early years with the Washington Capitals, Gartner was one of the best skaters the game has seen, he scored 30+ goals in 15 consecutive seasons. Despite his long and impressive career, Gartner never won the Stanley Cup or played in the Cup Finals, never won an NHL award, and was never named to the postseason All-Star Team, being one of the few NHL players with this distinction to be inducted into the Hockey Hall of Fame.
Always known as a gentleman throughout his career, it was truly a please to get the chance to speak him. My interview of Mike was one without a doubt of my favorites. His memory of events long ago was fascinating. He spoke about his experience playing for Team Canada back in the 1978 World Junior Ice Hockey Championships (a team that captured the bronze medal), his early WHA days, his first time in Washington to play for the Capitals and much more. Just some great stories and recollections from one of the all time greats of the game.